UPCOMING EVENTS – 18th APRIL 2017: Click on Flyer to for more information.
Just a reminder that the Barbados Town Planning Society will be hosting a seminar to mark World Heritage Day on Tuesday 18th April 2017 at The Marriott Courtyard Hotel from 9:00 am to 12:45 pm.
The topic for discussion is the World Heritage site of Bridgetown and its Historic Garrison. We will be examining the impact of the UNESCO World Heritage inscription and the progress made since 2011. In particular, we will be considering what we can do to encourage good, high quality development which reflects the character and historic importance of the area.
Please see the attached flyer and letter of invitation for further details and to share this with other colleagues. If you have not already registered to attend the seminar, you may do so by clicking on the link below.
We look forward to seeing you there!  CLICK HERE TO REGISTER ONLINE!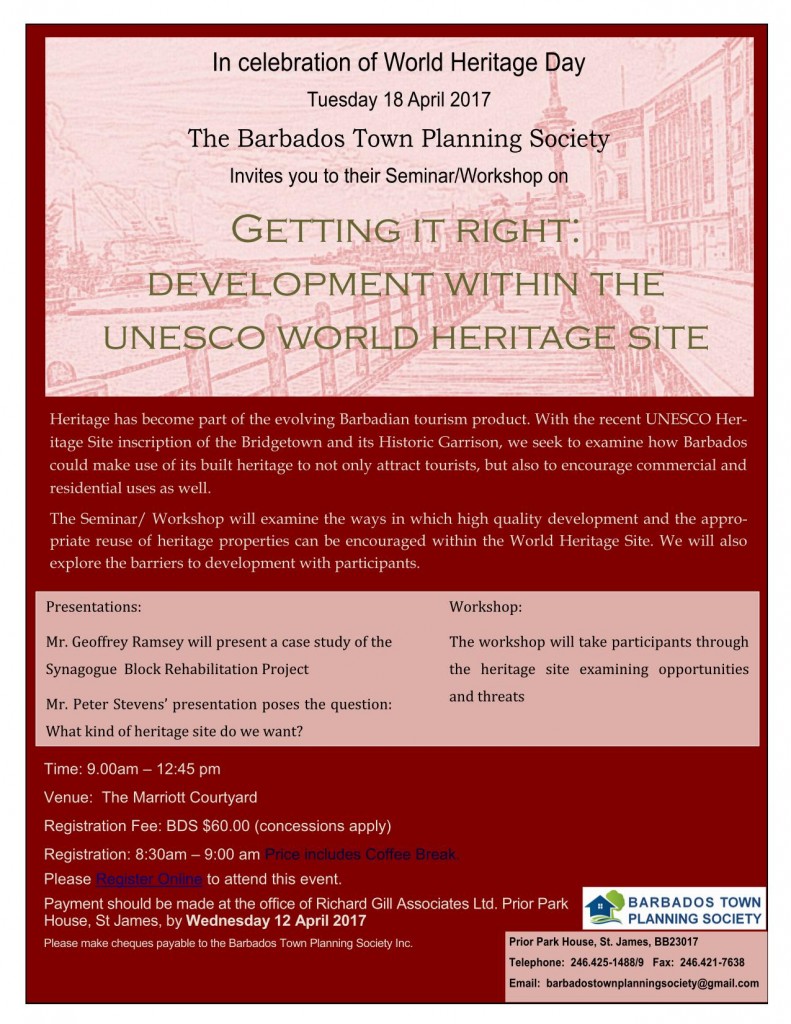 The Barbados Planning Society is a non-profit association comprised of town planning-related professionals from the public and private sectors who are interested in working to improve the art and science of planning. The BPS puts social justice, the economy and the environment at the heart of policy debate and inspires government, industry and campaigners to take a fresh perspective on major issues including planning policy, housing, agriculture, water scarcity, heritage and climate change.
The BPS's objectives are to:
Inform development-related stakeholders of critical issues through the coordination of symposiums and seminars on relevant, pressing topics
Empower people and communities to influence decisions that affect them
Improve the planning system in accordance with the principles of sustainable development and good governance
Encourage discussion on matters which affect our communities and their ongoing development